about us
MEET OUR TEAM OF EXPERTS
Our Mission
"To provide the highest level of regenerative and wellness services in order to help others live an active, pain-free life"
Our Staff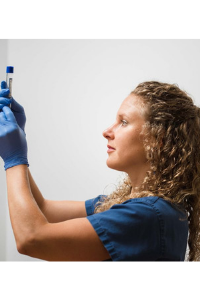 Carol Hanselman Bender, NP, Founder, JWP and EA
JWP & Enliven Aesthetics Founder, and Lead Provider: Nurse Practitioner since 2013, specializing in regenerative and integrative medicine, providing a broad range of care, ranging from emergent medical treatments to medical consultations to regenerative injections.
In 2009, Carol graduated from the Wharton School of Business and the School of Nursing at the University of Pennsylvania, earning dual Bachelor's Degrees in Economics and Nursing. In 2013, Carol acquired a Master's of Science in Nursing from the University of Pennsylvania School of Nursing. She is board- certified as an Adult-Gerontology Acute Care Nurse Practitioner.
Carol served as the Medical Director of LifeNet International in Burundi, Africa (2009-2011) a social enterprise she founded which created a sustainable network of franchised healthcare clinics in Burundi. From 2009 to 2012, Carol worked as an Emergency Room and Cardiac nurse at the University Medical Center of Princeton UMCPP.
In her Master's Degree in 2013, Carol completed rotations with the Trauma Team of the Hospital at the University of Pennsylvania and the Emergency Room at UMCPP.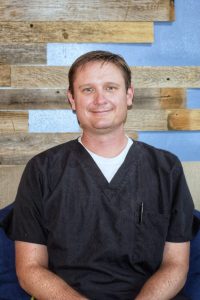 Dr Michael Meng, DC, RN, RMSK
Dr Michael Meng, DC, RN, RMSK, will be our new pain and injury ultrasonologist!
Dr. Michael Meng has 17 years of experience in musculoskeletal ultrasound, becoming certified as a Registered Physician of Musculoskeletal Ultrasonography (RMSK) in 2003, and has collaborated with our pain and injury team members for the past 3 years.
He received his degrees in Biology and Chemistry at Truman State University in Missouri, his Doctoral Degree in Chiropractic at Cleveland Chiropractic College in Missoouri, and his Nursing Degree from the International College of Health Sciences in Florida. Over the years, he has been a private consultant to medical doctors, medical societies, and physician colleges. Furthermore, he has been a university professor and a frontrunner in the fields of musculoskeletal ultrasound and regenerative medicine.
He has extensive clinical experience in orthopedics, rheumatology, pain management, anesthesiology, sports medicine, internal medicine and chiropractic. He has provided musculoskeletal ultrasound care at the United States Olympic Committee at Arco Olympic Training Center and the Interventional Spine Care and Orthopedic regenerative experts. He has taught at Boston BioLife, Society of Pain Practice Management and Napa Pain Conferences since 2010 and formerly taught at the University of California San Diego (UCSD) as a preceptor of fellows in the Sports Medicine Fellowship Program.
He is fluent in using ultrasound to diagnose pain conditions and guide all of the procedures that JWP offers for pain, injury and post-traumatic stress injury. He enjoys speaking with patients in both Spanish and English, and is is eager to bring his ultrasound expertise to enhance the high-level integrative and regenerative medicine offered at JWP.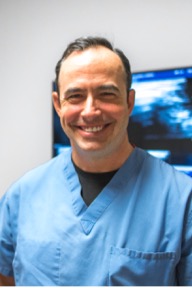 Shawn Tierney, DC, RMSK Musculoskeletal Sonologist
Expert sonographer and teacher, also licensed doctor of chiropractic
Dr. Shawn P. Tierney is a musculoskeletal sonologist and leader of multiple regenerative medicine clinics in Southern California, specializing in ultrasound-guided procedures such as PRP, spinal injections and nerve hydrodissection. Shawn Tierney, DC, RMSK, is an expert educator for physicians and sonographers in musculoskeletal ultrasound and serves as a faculty member of MSKUS. Dr. Tierney has done extensive work in Sports Medicine, Rehabilitation and Nutrition in addition to practicing Chiropractic Medicine for over 15 years.
Dr. Tierney received his degree from the Los Angeles College of Chiropractic Medicine. Prior to studying chiropractic medicine, Dr. Tierney was an environmental organic chemist and a personal trainer since 1986.
Not only does Dr. Tierney have experience as a nationally ranked body builder, he also actively assists in the recovery of many professional athletes. Dr. Tierney has treated members of the U.S. Water Polo Team, the U.S. Olympic Swim Team and professional athletes from the MLB and NFL.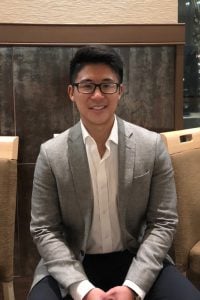 Jim Chen, MD
Dr. Jim Chen is a board-certified MD from Australia where he specialized in general medicine in the Royal North Shore Hospital in Sydney. Following his tenure there, he made the move to the United States in 2017 to pursue his other passion – medical innovation and the intersection of health and technology. In his time here, he has consulted across various medical fields, including diagnostic laboratory testing, the latest in hormone therapies, and regenerative medicine. In 2017, he assisted a local diagnostic laboratory in rolling out their FDA-certified IVF testing line and expanding their hormone testing services.
Dr. Jim Chen joins JWP to bring about a new approach to client-centric care. With his diverse experiences and Australian values, Dr. Chen is constantly seeking new ways to improve how JWP will provide the highest in client care, all with a smile on his face.
He completed his MD at the University of New South Wales, Australia and his MPH at the University of Sydney, Australia.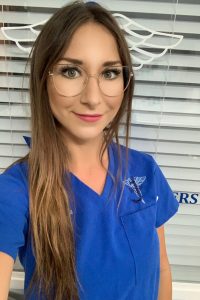 Martyna Erskine, RN, BSN, Nurse
Martyna Erskine grew up in Poland and graduated from Adam Mickiewicz University in 2011 with a Master's Degree in Chemistry. From 2011 to 2014, she worked as a Chemist at University's Laboratory in Poland where she conducted research on synthesized modified elements and molecules.
In 2014 and 2015, she came to the United States for two 'work & travel' programs, one in Coronado, California and one in Martha's Vineyard, Massachusetts. In 2015, she officially moved to the United States. From 2015 to 2017, she mastered her blood drawing and IV skills as a Phlebotomist and Lab Assistant at Scripps and Palomar Hospitals. Simultaneously, she completed her nursing school prerequisites at SDSU and Miramar College.
In December 2018, she graduated with her Bachelor's Degree in Nursing at the University of Miami with a specialty in oncology acute care nursing. She obtained over 5,000 hours of direct clients care experience in inpatient and outpatient facilities. She is fluent in Polish and English and intermediate in Spanish. She was recruited directly out of school in December 2018 to work at Joy Wellness Partners.
She is the Lead IV Infusion nurse, and also a specialist in aesthetic procedures in Enliven Aesthetics. Aside from managing the social media, Martyna has an eye for design. Come to see her boxwood walls and the stunning butterfly art in the IV Lounge. In her personal life, she loves hiking, photography, traveling, and designing and making clothing.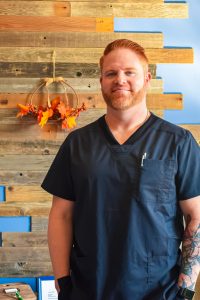 Josh Schwass, RN, BSN, Nurse

Josh Schwass was born in Healdsburg, CA, and grew up in Ukiah, CA. He is a US Navy veteran that served 10 years working as an electronics technician.  After leaving the Navy, he made a career change and started his college journey at San Diego Mesa Community College in 2014.  In 2019, he completed his BSN at Grand Canyon University.
In his first year as a nurse, he worked at skilled nursing facilities, caring for geriatric clients and working in a managerial role before finding Joy Wellness Partners. He is very excited to be the IV Lounge Nurse, where he is able to help our clients and grow meaningful relationships with them.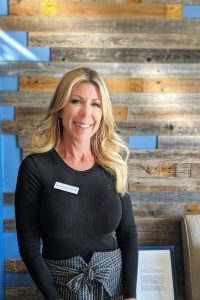 Barbara Lacuesta, MSN FNP-BC, Nurse Practitioner
Barbara Lacuesta Carpadakis is a Family Nurse Practitioner with experience in acute, primary, and palliative care. Most recently she has had the opportunity to help those dealing with depression, anxiety, PTSD and addiction recovery.
Nursing came later in life for Barbara after raising four beautiful daughters and managing the family business. She achieved her nursing degree through Azusa Pacific University and later went on to obtain her masters in nursing, as a board certified Family Nurse Practitioner.
Born and raised in sunny San Diego, she has always had a passion for health and wellness. She lives a healthy lifestyle and believes that overall well-being is obtained through proper diet, exercise, mental and spiritual contentment. She is honored to be a part of Joy Wellness Partners and Enliven Aesthetics, to help others achieve their goals and feel their optimal best!
Fun fact about Barbara is 3 of her 4 daughters followed in their mom's footsteps, two nurses and one acute care nurse practitioner. The last deciding to be a nurse to animals!
Bonnie Wright, RN, Advanced Aesthetic Injector
Bonnie Wright, brings nearly 40 years of nursing experience to Enliven's diverse team of expert Medical Aesthetic Providers. She felt a calling to be caring as a little girl and by the age of six had become recognized as the neighborhood nurse.
Bonnie began a nursing career at Pascack Valley Hospital in NJ which took her to the Bahamas, Thailand, and Cambodia, where she treated the Cambodian Royal Family.
She began working with neuromodulators like Botox in the 1980s when the treatment was still rare, and his since fine-tuned the art of aesthetic injectables.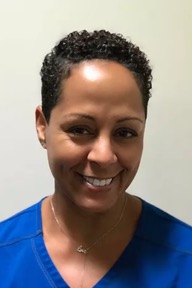 Josie Spence, RN And Owner Viva Infusions
Josie Spence is a Certified Registered Nurse, the Founder of Viva Infusions, and her company provides infusion expertise in the JWP IV Lounge. Josie has been an RN for over 13 years, and her passion in life is healing and caring for others.
Josie graduated with an A.S. in Nursing from Delaware Tech Community College in 2005. She quickly advanced from her internship in critical care at Bay Health in Dover Delaware to the ICU, where she cared for post cardiac procedure clients and clients in critical need of life sustaining treatment for 6 years. Furthering her career in nursing, Josie became an RN and worked as a Trauma Nurse in the Bay Health Emergency Department.
After mastering her nursing skills through 15 years of clients care at Bay Health, Josie decided to become a travel Nurse, which eventually brought her out to San Diego's Sharp Grossmont Hospital, and many other healthcare facilities in Southern California.
Josie formed Viva Infusions in 2018 with the vision of expanding the availability of life-enhancing infusions beyond the walls of the hospital. Joy Wellness Partners is benefiting from the expertise of Viva Infusions as Josie enhances the quality of clients care in the IV lounge.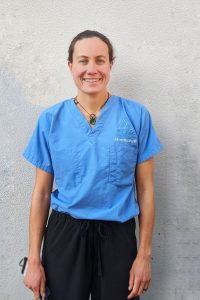 Dr Allison Mulcahy, MD, Supervising Physician
Allison Mulcahy, MD, will be our new supervising Physician!
Many of you have met her already, as she has been working as a pain and injury provider for the past year! Allison Mulcahy, MD is a Board Certified Emergency Physician, and has held academic positions with the University of New Mexico, the University of Utah and the University of Washington. Dr. Mulcahy was a three season Division I athlete at Cornell University – where she studied chemical and biomedical engineering – and has been an avid backcountry skier and mountain biker for over two decades. She has worked and taught all around the world, volunteering for organizations such as Doctors without Borders and International Medical Corps.
She received her doctorate from the University of Nevada School of Medicine. She completed her residency in Emergency Medicine at Alameda County Medical Center in Oakland, CA, where she also completed a year-long ultrasound fellowship. She completed a two-year fellowship in Integrative Medicine with the University of Arizona in February 2020. She has worked in Emergency Medicine since 2006 and founded her own integrative and regenerative medicine clinic in Idaho, Boost, in 2018. She is excited to be able to support JWP as our supervising provider, using an integrative approach in regenerative medicine to help people get back to doing what they love to do and help boost performance.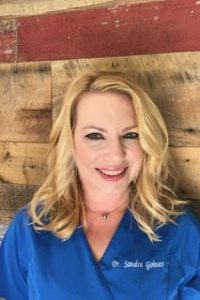 Dr. Sandra L. Goines, D.O., Supervising Physician
After graduating from California State University, Fullerton and Norwalk High School, Dr. Goines completed her Medical Degree in Osteopathic Medicine at Western University of Health Sciences.
Dr. Goines is the owner and leading medical provider of Pacific Healing and Wellness in Los Alamitos, CA. She has been practicing regenerative medicine for the past 10 years. She also specializes in Ultrasound Guided procedures, holistic medicine, BioTE hormone replacement therapy, craniosacral therapy. All services of Joy Wellness Partners are provided under the supervision of board certified physician Dr. Sandra Goines.
http://www.pacifichealwell.com/
PACIFIC HEALING AND WELLNESS, INC.
5242 KATELLA AVE
SUITE 106
LOS ALAMITOS, CA  90720-2820
Phone: 949-214-8559
Payment
We accept the following payment methods:
– Cash.
– Visa.
– Mastercard.
– American Express.
– Discover.
– Flexible Spending Account (FSA) cards.
FSA & HSA Frequently Asked Questions
– Health Savings Account (HSA) cards.
FSA & HSA Frequently Asked Questions
– Checks (at our discretion).
– Travelers Checks.
Here at JWP we want to make the invoicing and payment process as easy and simple as possible. If at any time you have any questions, concerns, or just need to talk to one of our team members, we are more than happy to help you. Please feel free to contact us at any time.