What is BioTE® Hormone Balancing?
BioTE® hormone balancing therapy is a natural way to boost your metabolism, increase lean muscle mass, and improve recovery time to help you burn fat and get the most out of your fitness routine! Hormones naturally become unbalanced from aging and stress; a simple blood test at JWP can show how helpful BHRT may be for you! Optimized hormone levels improve sex drive and mood (fighting symptoms of anxiety and depression) for both sexes. They reduce hot flashes, vaginal dryness, and improve symptoms of PMS and menopause in women. In men, optimal hormone levels improve sexual function (ED), rejuvenate thinning hair, and fight muscle weakness. Both men and women can expect to sleep better, feel more rested, and think more clearly with BioTE®. Bio-identical hormones (derived naturally from plant sources) have the same molecular structure as human hormones, they also have far fewer side effects than their predecessor, synthetic hormones, or other prescription medications.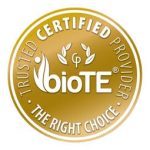 Is BioTE® Right For You?
Take the hormone wellness quiz to see if you may suffer from hormone imbalance
"If I did not have the peace of mind, knowing that these treatments exist, I would not be able to push as hard professionally. I am a customer for life"

Pain and Injury Treatment

"Teaching my Zumba classes had become increasingly challenging because of my knee pain. My doctor diagnosed me with tendonitis, and suggested BioRenew® PTM Therapy. In just a month, my pain was gone and I was back to teaching Zumba! Now, I want to start taking a Yoga teacher-training course."

PTM Therapy™ for Knee Pain

"Before being treated by Carol, I had two surgeries on my hips, and had to take a year off of football. It was heartbreaking because I did not notice any results from the surgeries. Then I found out about Carol and her regenerative medicine, and decided to get treated. For the first time, I felt real results. I could move better and have less pain. I am a completely different athlete."

PRP Therapy for Hip Impingement Pain

"Within the first week I noticed that small things like sitting and standing did not hurt nearly as bad as they used to. I am able to sleep much better. I am able to stand up and sit down without pain. I have gone from being in pain almost all the time, to only feeling pain every now and then (I am only 4 weeks after the treatment so it will only get better from here)."

PTM Therapy™ for Chronic Back Pain

"Absolutely do not be afraid. It is safe, I did a lot of research before. I am a pretty big baby when it comes to being treated. It was the best thing I ever did because it affects your whole life."

BioTE® Hormone Balancing

I am sleeping better, I feel sharp, I have more endurance when I work out. My sex life- she wasn't kidding! That was a big change, my sex life is almost crazy amazing, I feel like I am 25

BioTE® Hormone Balancing

"During my first appointment at JWP, the Joy Wellness Team discovered that I had four compressed nerves in my knee, and treated my with Nerve Hydrodissection. As soon as I stood up after the treatment, I felt immediate relief in my knee. For the first time in years I could walk without pain. Joy Wellness Partners has significantly improved the quality of my life."

PTM Therapy™ for Neck and Back pain and Nerve Hydrodissection for Knee pain
Save 10% off your first visit when you schedule online.
BioTE® Hormone Balancing FAQs:
Prior to treatment, the client will complete a blood test, and work with us on a comprehensive hormone analysis to determine if hormone balancing is the best treatment for them. The hormone balancing procedure begins with anesthetization of the skin. Then, pellets from a plant-based source, which contain bioidentical estrogen and/or testosterone, are inserted into the skin. The insertion takes place at the gluteus or abdomen. Estrogen and testosterone from the pellets are dispersed throughout the body naturally.
Where do the pellets come from?
We use BioTE® Medical Hormone Pellet Therapy to source the pellets that we use for hormone balancing. BioTE® pellets are the only method of hormone therapy that provide sustained hormone levels throughout the day, for up to 4 to 6 months, without any "roller coaster" effect. The pellets contain a natural plant source of estrogen or testosterone.
How long will the procedure take?
The entire procedure will take less than one hour.
How soon will I notice the results?
While the timeline of the treatment varies depending on the client, the client should start to feel the benefits of the treatment, including increased mental clarity and energy levels among other benefits, within a week of the procedure.
How long do the benefits last?
While each pellet insertion will sustain optimal hormone levels for three to four months for a woman, and five to six months for a man, the client should reap benefits for up to 24 months following the treatment. 
Have a Question?
We would love to hear from you! If you have any questions about a treatment, or would like more information, feel free to fill out the form below, or call us at, (858) 609-0866 during our business hours to speak directly to a representative.