We Treat Pain and Injury Differently
At Joy Wellness Partners, we treat your pain and injury differently. With our unique approach, you will receive the most personalized and advanced regenerative medicine available. Learn how each step in our process is specially designed to help you recover stronger and faster, while avoiding the costs of an invasive surgery.
Have you wondered if regenerative medicine is the right treatment for your pain and injury issues? Our Pain & Injury department, Carol Hanselman Bender, NP, Founder, JWP® & EA, and Dr. Michael Meng, DC, RN, RMSK, answer your most frequently asked questions regarding regenerative medicine for pain and injury services.
Where is your pain?
Shoulders, necks, backs, knees, ankles, hips, and nerves can all be restored to pain-free function at an accelerated pace.
Let us help you by properly diagnosing and treating your pain directly at the source, allowing you to avoid costly surgeries.
Our Approach
Each of these nonsurgical options utilize the newest scientific technology combined with the body's own healing capabilities to rapidly heal damaged tissue from the inside out.
Step 1: Diagnosis
In order to heal your body, we need to first understand it. That is why we utilize ultrasound to properly diagnose the source of your pain and injury. With ultrasound diagnostics we are able to show you, in live time and with extreme accuracy, where your pain is coming from. From this powerful diagnosis, we are able to recommend a treatment that is personalized to your body's specific needs.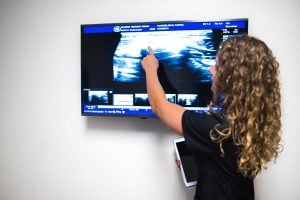 Step 2: Treatment
Once we have properly determined the source of your pain or injury, we can recommend the treatment that is right for you. We offer a wide range of treatments for pain and injury, as each person's body is unique.  All of our treatments are administered under ultrasound guidance.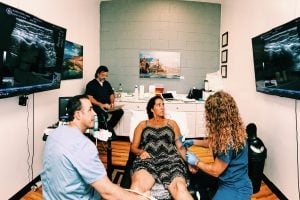 Step 3: Recovery and Follow-Up
Once you have received your treatment, you are free to resume most normal activities immediately. Depending on the severity of your injury, most patients are able to resume more strenuous activities within a few weeks. Typically, we ask that our clients come in for a follow-up appointment. In the follow-up appointment, we use ultrasound to examine the treatment area to assess your recovery. This helps us to ensure that you are happy, healthy and fully recovered.
Our Team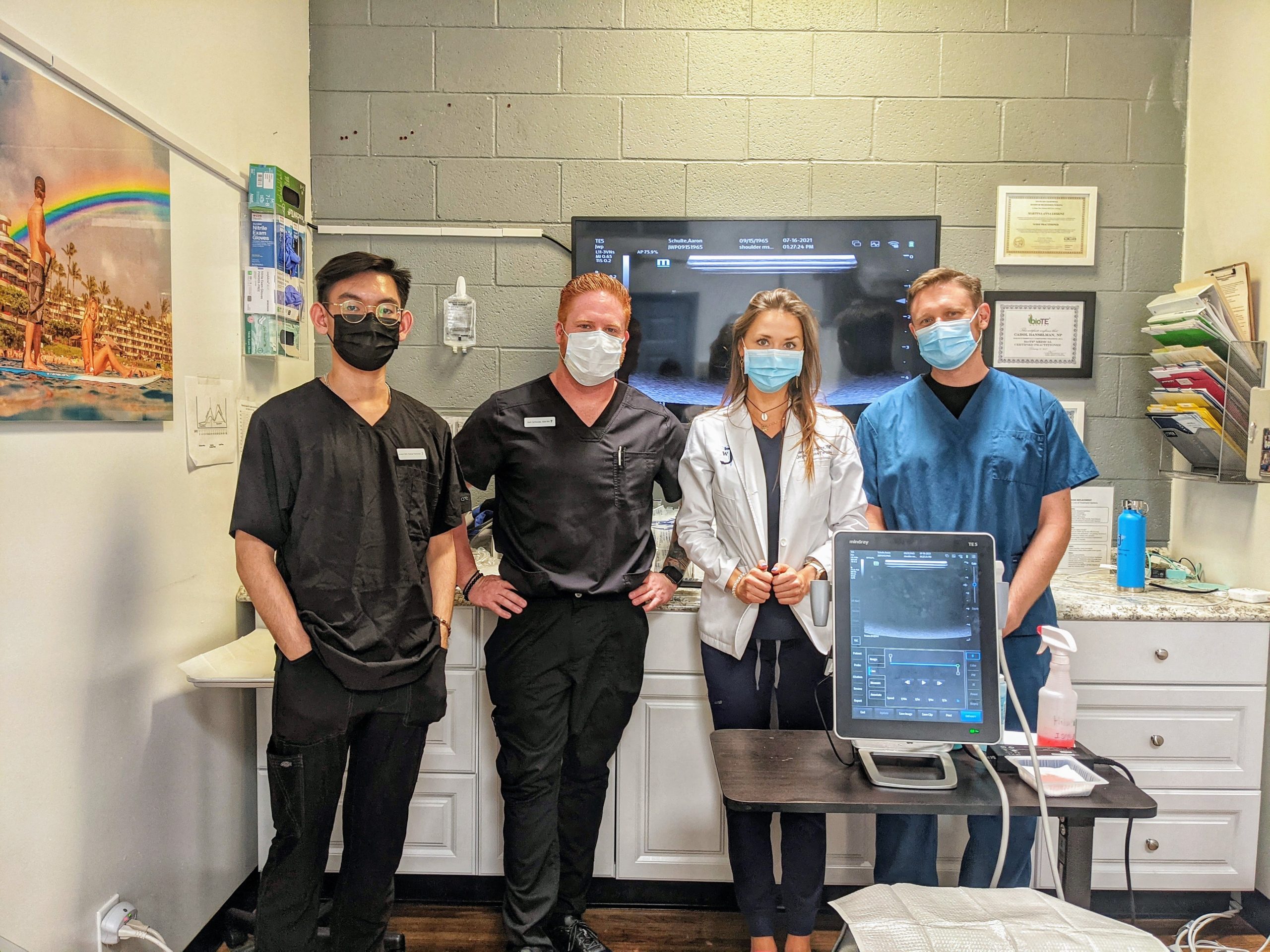 Pain and Injury Treatments
PRP for Pain and Injury
PRP for Pain and Injury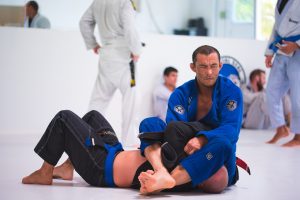 Platelet-Rich Plasma (PRP) therapy offers a safe, cost-effective and nonsurgical solution to healing injury and pain, by accelerating the reparation process of damaged tissues. Using cutting edge medical technology, PRP therapy utilizes the body's natural healing powers, the growth factors and plasma cells extracted from one's own blood, to stimulate regeneration of cells and heal common injuries. A number of high-profile athletes use PRP therapy for injury treatment, so that they are able perform at their best without surgeries or invasive procedures.
A2M (Arthritis Injection Treatment)
A2M (Arthritis Injection Treatment)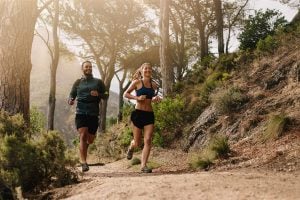 Alpha 2 macroglobulin, or A2M injection therapy, treats osteoarthritis at its source. A2M is your body's own master anti-inflammatory protein, found naturally in your blood. It is first obtained from your blood like PRP with an extra special filtration process, then it is injected into your painful, arthritic joints. A2M immediately begins to block inflammation naturally, thus relieving pain and preventing cartilage breakdown – stopping arthritis in its tracks.
Growth Factor Therapies
Placental Tissue Matrix (PTM)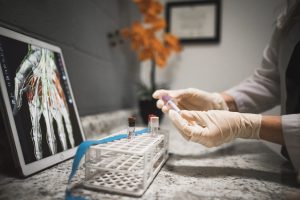 Growth factor therapies are breakthrough treatments that stimulate the body to heal and repair injury and pain, reducing discomfort and restoring optimal function to your injured joint. If you suffer from chronic pain or have had an injury – new or old – that is affecting you in your everyday life, our Growth Factor Therapy could be the solution for you. Growth Factor Therapy and regenerative treatments are effective for repairing connective tissue injuries like ligament and tendon tears, joint arthritis, and meniscus degeneration.
Nerve Hydrodissection
Nerve Hydrodissection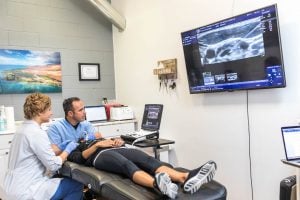 Nerve hydrodissection is the application of gentle fluid pressure through the conduit of a needle to open the space around the nerve. The injection of fluid around the nerve can permanently separate fascial layers, muscles or adhesions from the nerve. This decompresses the nerve and enables the nerve to move freely and receive its vital blood flow, to provide long-lasting relief from pain.
Advanced ultrasound technology allows for providers to see the nerves better than any other imaging modality, offering a precise diagnosis and treatment.
More Treatment Information
Unsure which therapy is best for you?  It's ok – that's normal!  We won't know either, until we ultrasound it during your consultation.  It is through that scan that we will determine the best recommended therapy for you, so it's OK not to know exactly what solution will be used in advance.
"Before being treated by Carol, I had two surgeries on my hips, and had to take a year off of football. It was heartbreaking because I did not notice any results from the surgeries. Then I found out about Carol and her regenerative medicine, and decided to get treated. For the first time, I felt real results. I could move better and have less pain. I am a completely different athlete."

PRP Therapy for Hip Impingement Pain

"Thymosin alpha 1 made me feel the best I have in years, when I started having thyroid and gut issues."

Thymosin alpha 1 Peptide

"Well,  Joy Wellness Partners have done it again! Terrific staff... and natural solutions to fix many different issues! Went to San Diego for treatment on my arm. I've been in pain all year! But Covid hit and so I dealt with it. Highly recommend you look them up and look for ways to heal that don't involve surgery. Thank you Carol Bender! (And Staff). Healing nicely at home!!"

Placental Tissue Matrix and Hydrodissection Treatments

"I came in to JWP® with long-standing knee pain, but as soon as I got off the table after the injections of A2M, my pain was gone. I am still pain-free 2 weeks later, and I know it is still working. I am so grateful that I can get back to hiking and dancing."

Pain and Injury Treatment

"I have been taking MK677 for approximately two years. I had heard about it through friends. I noticed it was much easier to maintain muscle mass and have never suffered any side effects while on it. I would completely recommend this for the health benefits - it is a very safe supplement."

MK677 Peptide

"I was attracted specifically to the CJC 1295 and Ipamorelin solution because of the potential slimming affects in the stomach area while keeping and building muscle strength. I noticed great results right away, and could tell the difference from the first dose. It immediately helped me at the gym. I had quicker recovery after my workouts and was able to recapture depleted muscle strength sooner than I thought possible."

CJC 1295 and Ipamorelin Peptides

"Semax has helped my memory, my learning in my college courses, and my recall of information. Plus, it's an easy nasal spray, I don't have to poke myself with a needle to get it in me."

Semax Peptide

"Thymosin alpha 1 kept my immune system strong throughout the pandemic and my first pregnancy."

Thymosin alpha 1 Peptide

"Thymosin alpha 1 made my joints feel less heavy and stiff; made me feel more alert"

Thymosin alpha 1 Peptide
Save 10% off your first visit when you schedule online.
Have a Question?
We would love to hear from you! If you have any questions about a treatment, or would like more information, feel free to fill out the form below, or call us at, (858) 609-0866 during our business hours to speak directly to a representative.